ALGISLO - 3 in 1 Alginate retarder, bonder and softener
Increase Alginate set time up to 5 or more minutes. Bond Alginate layers. An indispensable multi-use formula for all brands of prosthetic alginate. Provides the best set time control, a very strong bond between layers, and a surface softener for application of fiber, even after the surface is set.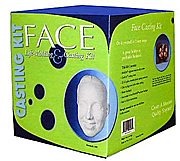 Face Casting Kit (Artmolds)
Complete face casting kit to be used by the beginner or accomplished artist. Kit includes Moldgel alginate, casting stone, plaster bandages, faux mohair to bond to Moldgel plaster bandage, clay for plugging nose before casting, cotton swabs, 2 1/2 gallon mixing containers, drop cloth, and instructions.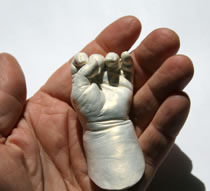 Baby Hand Casting Kit
Designed for children's hands newborn to about 6 months. Kit contains everything you need to make a solid stone 3D casting of your baby's hand. The exclusive color-changing alginate formula lets you know when it's time to put your baby's hand into the safe, non-toxic molding material. As a bonus, the kit includes two bags of molding material, just in case something doesn't go quite right the first time. Easy to mix and use. Complete instructions included.
Child Hand Cast Kit Instructions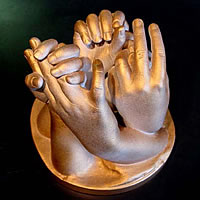 HandGel Alginate 380-CC
Color-Changing Formula for Hand Casting Projects. This alginate mixes pink then fades to white when it's time to put your hands in the mold. 3 minute set time with 80°F water.

MagicGel All Purpose Alginate 570-PVG
Special pourable type of alginate designed for a wide range of molding and casting projects. Mixes thin and smooth, sets firm and strong. 5 minute set time with 70°F water.
IMPACT brand - Medical Grade Bandages
Extra Fast Set - 4 to 5 minutes