Fundamentals of Silicone Skins
Learn the basics of molding and casting for silicone skins. Silicone skin systems are the latest breakthrough for hyper realistic effects. You don't have to have a big budget to get great results. DVD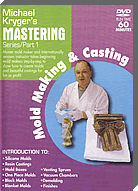 Michael Kryger's Mastering Series
Part 1: Internationally renowned mold maker and teacher puts his expertise together in this one hour information packed video. He demonstrates the art of creating basic silicon molds and resin castings. You'll learn mold making techniques and studio secrets from a master of the art of mold making.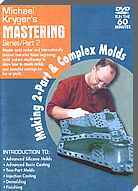 Michael Kryger's Mastering Series
Part 2: Michael Kryger demonstrates the art of creating complex molds including multi-part molds. After viewing this video you will be able to construct molds of objects of complex shapes as well as under cuts.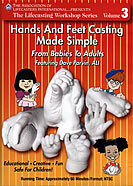 Hands And Feet Casting Made Simple
Learn the latest techniques and materials in life casting. This is the perfect starter video for those interested in the fine art of life casting. You'll learn from master sculptor and life casting artist Dave Parvin as he shows you the secrets of creating perfect reproductions of hands and feet. DVD